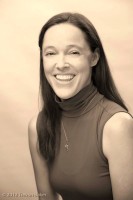 Marisa Roth, Owner and Director of the Northwest Ballet School & Company, is a lifer when it comes to ballet. She began dance at the young age of 3 and continued training through college, where she graduated from Mercyhurst University in Erie, Pennsylvania with a BA in Dance with a Teaching/Choreography Concentration. Marisa danced with the Lake Erie Ballet Company for three years, performing lead roles in ballets such as Nutcracker, Coppelia, Giselle and Serenade before returning to the Flathead to teach. She took over the Northwest Ballet in January 2007, continuing to grow the program to offer all the following dance disciplines: Ballet, Pointe, Pas de Deux, Tap, Jazz, Modern, Hip-Hop and Breakdancing. Her Company performs two shows a year with their annual Nutcracker and spring Mother's Day performances, which have included Sleeping Beauty, Cinderella, A Midsummer Night's Dream, Alice in Wonderland and Phantom of the Opera. Additionally, both the Kalispell and Whitefish branches of the Northwest Ballet School perform annual end-of-year Student Showcase Recitals. Marisa served for seven years as Secretary on the Board of the Montana Dance Arts Association (MDAA) and is currently serving in her second year as President. She has taught dance in over eight different cities throughout the state of Montana and has had alumni dancers in colleges throughout the U.S. including Montana, Utah, California, and Arizona. She has performed as a member of AzureVision Dance Collective, a modern company in the Flathead Valley, since its founding in 2005. Marisa and her husband Michael live in beautiful Creston, MT, near the Flathead River.
Mila Baker started dancing at a young age in Miles City. She went on to be a member of the Montana State University Dance Team while earning an Elementary Education degree with a Dance Minor. Mila coached dance at MSU for one year and coached cheerleading at Belgrade High School for four years before moving back to Miles City. In Miles City she owned and operated Studio M Dance Company for 10 years before moving to Kalispell for her husband's job with the National Guard. Mila started teaching Modern at the NWB School in January 2015, and this season is also the Beginning Ballet, Elementary Ballet, and Cheer instructor as well as the teacher for the evening Happy Feet classes. Mila is currently on the voluntary board of directors for the Montana Dance Arts Association as their secretary. She enjoys spending time with her husband Joe and 4 kids, Olivia, Carson, Ava, and Celia. She also enjoys teaching fitness classes and going on new adventures in the Flathead. Mila has a deep love and appreciation for all dance and loves sharing that with her students.
Kristine Stanfield began taking dance classes at the age of 24. She took Ballet, Jazz, Tap and Hip-Hop for two years. She then began teaching tap in an old milk-house she converted into a dance studio. She was a student in YWAM's (Youth With A Mission) School of Dance where she continued her training, adding modern dance, pedagogy, anatomy and dance history to her repertoire. With them she traveled to China where she toured and performed for a month. The following year she staffed that same school where she taught dance and dance history, and spent six weeks in Europe. She auditioned for, and got accepted to, Cornish College of the Arts. Along with choreography and teaching, her passions are photography, traveling and her family. This is Kristine's fifth year on staff at the Northwest Ballet School. She is the instructor for the Jazz, Hip-Hop and Tap disciplines.